I'm the creator of Achetiller Games which is my own hobby game development studio. I love making games, writing stories for them and slowly turning my visions into beautiful worlds for the player to explore.
I released my first game, A Tale of the Slime, on itch.io in summer 2019. Although it eventually wasn't quite the game I initially wanted it to be, it still has a special place in my heart. If you want to experience my very first game creation, you can. FOR FREE!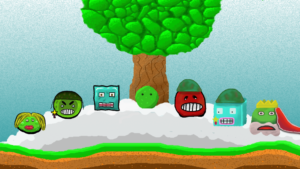 The development on my next game, which will be a coop-platformer taking place in space already started. This time I will be documenting my progress in form of a Devlog-series on my YouTube-channel.
If you want to see me turning my project into pure chaos and having fun over the next months, consider checking out my videos.
My goal is to publish a game one day that others and myself can call a true masterpiece. But until then I have a long way to go… Feel free to join me on my journey!